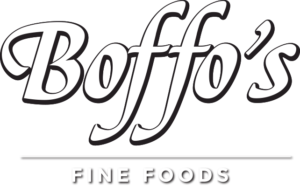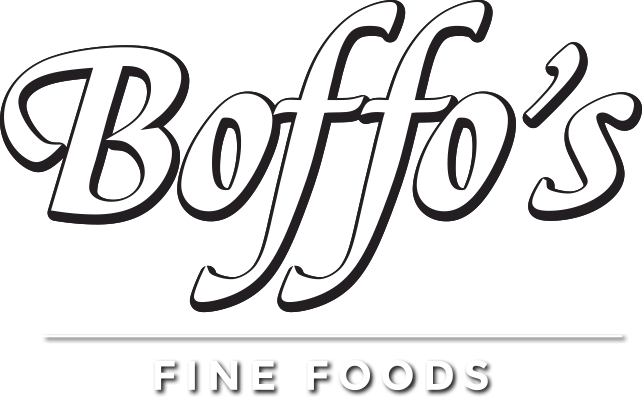 Appetizers & Platters
Gourmet Cheese Platter
An assortment of your choice of cheeses, garnished with dried & fresh fruit. Served with an assortment of Boffo's famous flatbreads, cheese straws as well as a variety of gourmet crackers and crostini.
Charcuterie Platter
Assorted Italian cured meats, cacciatore sausages, chorizo sausages and Serrano ham. Mixed marinated olives, slow roasted cherry tomatoes, fresh tomato or roasted pepper bruschetta and various dips.
Mini Crab Cakes

Served with chipotle aioli dipping sauce
Crispy Vegetable or Chicken Ginger Spring Rolls
Served with Thai-Chile Sauce. These Vietnamese-Style Rolls are crispy and delicious
Skewered Caprese or Greek salad
Caprese - Cherry tomatoes, mini bocconcini cheese, fresh basil Greek - Crisp veggies, feta cheese. Both are fresh and delicious
Pulled Pork Biscuit Puffs
Smokey and tender pork, served in a warm buttery biscuit
Pear and Asiago Bundles

Wrapped in light filo pastry
Roasted Red Pepper and Goad Cheese Tarlettas

A velvety delicious option
Arrangini
Wild Mushroom Risotto balls
More Appetizers
Chicken Bites
Bite size hot & crunchy
Roast Beef Mini sangweechis

Boffo's very own Roast Garlic and Pepper Roast Beef. Served with a horseradish, black pepper aioli on fresh baguette or crostini.
Honey Roasted Pork

Slow roasted, honey drizzled pork tenderloin slices, served with a mustard dipping sauce.
Flatbreads
Baked, never fried and ultra thin. Rosemary or Parmesan flavours available
Dips
Artichoke & Asiago, Roasted Garlic Gorgonzola, Smoked Tomato & Asiago, Chipotle Aioli, Fig,Toasted Almonds & Gorgonzola, Roasted Rep Pepper, Hummus, Babaganouj
Please Note
Our dishes change on a day-to-day basis. We do this in order to ensure only the freshest, local ingredients compose your every bite. These menu items serve to give you a general idea of what we offer. The menu is not limited to what's presented here. Feel free to call us or stop by and see what we're cooking up for the day!